First identified in Wuhan, China, in December 2019, Covid-19 has appeared as a highly contagious disease. 2020 was an unprecedented year in history, but COVID 19 UPDATES INDIA 2021 is proving to be even more so. The situation in India, in particular, seems to be worsened. The first three months of the year went by smoothly, in comparison to the past year. However, April saw once again the unexpected surge in covid cases. The situation has not been controllable since then.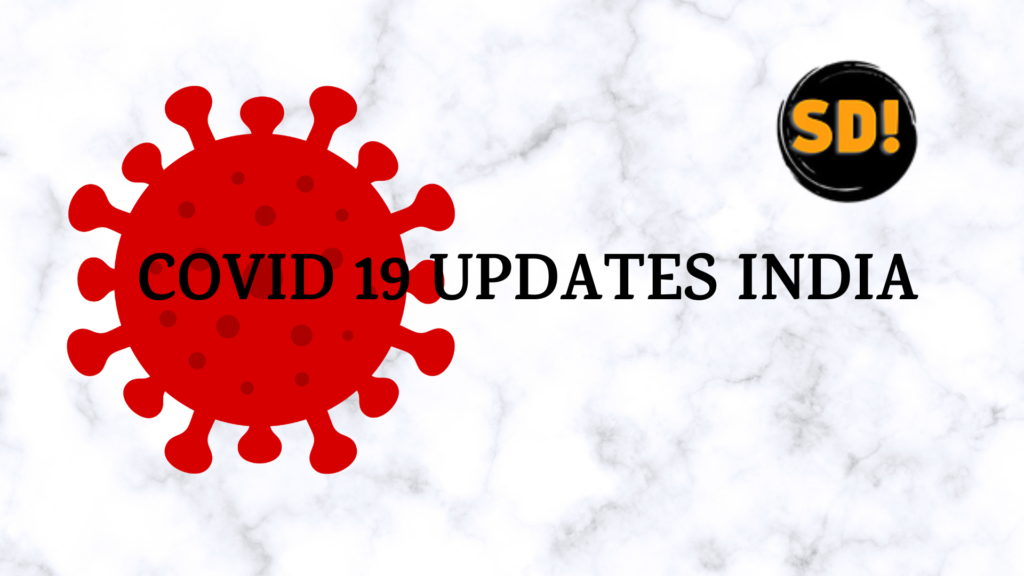 Want to know about the most recent situation and Covid-19 updates India, then please keep on reading the article below.
This second wave of coronavirus is even more fatal according to research studies. However, the second half of May is witnessing significant downfall in covid cases. The number of new Covid-19 cases almost daily being recorded around 4 lakhs in the first fortnight, the data dropped to 2,81,386 new cases on May 16. Fortunately, the number of new cases have been dwindling since then, and May 24 recorded only 1,96,427 new Covid-19 cases in India. The death rate has also been decreasing; the total number of coronavirus deaths in India till now (May 25) being 3,11,421.
COVID 19 UPDATES INDIA: What is the condition in major states?
Various states in India have been severely affected by the increasing number of covid cases and the increasing number of people dying on a daily basis. Delhi, Maharashtra, Uttar Pradesh, Kerala, West Bengal, Chhattisgarh are some of the most affected states in India. Given below is the state-wise report for Covid-19 updates India.
The capital and metropolitan city of India is suffering hard in the second wave of coronavirus. The rapidly rising cases have made Delhi one of the states that have the highest caseload.
The number of new cases recorded on May 1st were 25,219. This number has been decreasing since then, and only 1,568 new cases were recorded on May 25.
Compared to other states, Delhi has seen significant number of deaths too.
Delhi has the death ratio of 1.66% currently and 23,565 people have lost their battles against coronavirus till now.
Chief Minister Arvind Kejriwal has extended the lockdown till 31st May in Delhi.
The vaccination process was going well in Delhi; 40,14,576 people have been given the first dose of vaccine till now. But, because of the shortage of vaccine currently, the vaccination process has been affected.
It is the second most populous state in India, and undoubtedly the most covid affected too.
There is no considerable reduction in new cases and May 25 recorded a total of 24,136 cases of Covid-19.
The active cases have currently reached the mark of 3,17,038, with 90,349 total deaths till now. The death ratio there is 1.61%.
The condition of Maharashtra is worse than countries like Spain(79,801 deaths till now) and Germany (87,733 deaths till now).
In order to control the situation, the state government has increased the lockdown and the various restrictions till June 1.
Maharashtra is far ahead in the vaccination process: 1,67,91,838 people have been given the first dose of vaccine, out of which 44,20,595 have got the second dose as well.
With a high active ratio of 17.16%, this South-Indian has 4,24,402 active Covid-19 cases at present.
Since the second week of the month, the cases have been dropping. Only 22,758 new cases were recorded on May 25.
The death ratio is 1.07% there, and the death toll has reached to 26,399.
Karnataka is therefore, only second after Maharashtra in terms of covid fatalities.
The capital city Bengaluru itself is severely affected and therefore, the state government has also extended the lockdown imposed till June 7.
Noticeable is the fact that 97,48,053 people have already got their first dose of vaccine.
This culturally rich state of India has also been struggling to cope up with the ongoing crisis of coronavirus.
With fresh 29,803 cases recorded on May 25, Kerala becomes the third most affected state, after Maharashtra and Karnataka.
The total active cases have reached to 2,55,788, the active ratio being 10.68%.
However, the death rate there is only 0.32%, and the total deaths are 7,731- far less than even West Bengal and Chhattisgarh.
But then, Kerala has to fight this extra battle against Cyclone Yaas now, which has reached there and is now causing heavy rainfall in the state.
Tamil Nadu is another terribly hit state because of coronavirus.
34,285 fresh cases of Covid -19 were recorded on May 25, highest than any other state on that day.
3,06,652 cases are currently active in the state, which is higher than Kerala. 16.04% is the active ratio here.
With the death ratio of 1.12%, Tamil Nadu has witnessed total 21,340 deaths till now.
The vaccination procedure is going on fast to tackle the situation. 56,79,909 people have received their first dose of vaccination till now.
COVID 19 UPDATES INDIA: Overview of other states
Other states like Uttar Pradesh, Andhra Pradesh, West Bengal, and Chhattisgarh are also recording high rise in Covid-19 cases. Both Uttar Pradesh and Andhra Pradesh have reached the mark of 16 lacs in total cases of coronavirus.
However, the death ratio in Uttar Pradesh (1.16%) is quite higher than the death rate in Andhra Pradesh(0.64%).
West Bengal has also the high death rate of 1.13%, and has seen total 14,674 deaths till now.
The number of new cases recorded here(on May 25) was 17,005, which is notably higher than the two states discussed above.
Chhattisgarh, Rajasthan, Gujarat, Madhya Pradesh have fortunately yet not crossed the mark of 10 lacs active cases.
Punjab has the highest death ratio in the country: 2.49%. This is the reason why the state has recorded total 13,642 deaths, despite the total cases being only 5,48,231 till now.
Haryana has a death rate of 1.04% and 34,088 cases are at present active there.
Both Jharkhand and Uttarakhand have around 3 lakhs total covid cases, though the death rate is higher in Uttarakhand. 6,020 have lost their lives due to Covid-19 in Uttarakhand, the number for the same stands at 4,891 in Jharkhand.
Odisha, Bihar, Telengana, Assam,Tripura and Arunachal Pradesh have the death ratio of less than 1%. Therefore, the fatalities there are also lesser than other states.
According to latest covid-19 updates India, it can be analyzed that India(with 2.72 crore active cases at present) is now the second most corona affected country in the world, the first being the United States of America. India is fighting against this battle but still, a lot need to be done.
The vaccination programmes are running effectively and more than 20 crore people have been vaccinated in India, which is a lot higher than many other, western countries. Nevertheless, the battle is not yet won.
We advise everyone to stay safe and stay masked. Get vaccinated as soon as possible. And, don't forget to leave your thoughts in the comments section below! (All the statistical data about Covid-19 has been taken from mygov.in)
For more updates Subscribe us