Everybody loves to hear songs and when it's about best TWS Earbuds 2021. Music is an integral part of our lifestyle. The taste of people's musical taste may vary, but the role played by music remains equally important. Studies also reveal the effectiveness of music in reducing the stress level of people. It becomes even more significant in tough times like these, when all of us have to go through so much of mental turmoil.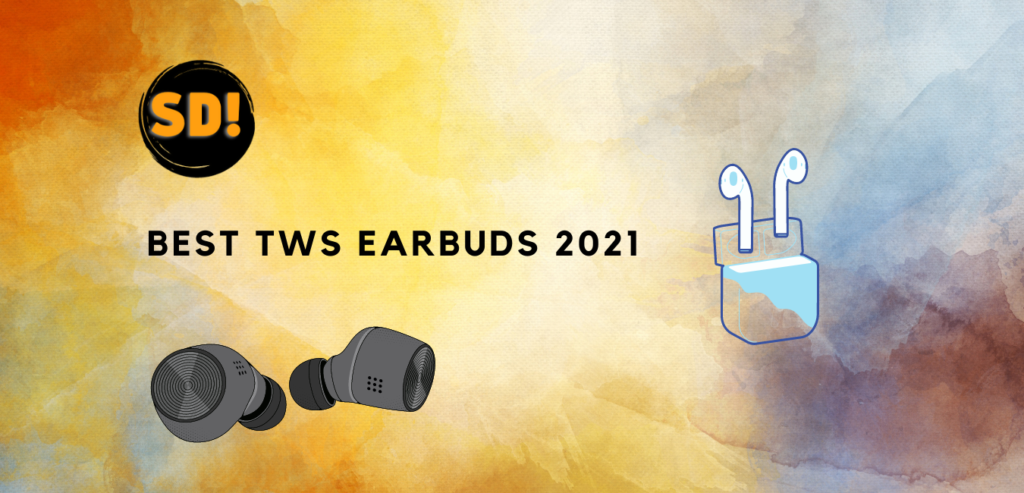 Music and songs have evolved over the years, and so have the mediums of listening them. The traditional radio-cassettes have now been replaced by earphones, headphones, and Earbuds. Earbuds are among the latest technological inventions in this field. In simple terms, Earbuds are just a very tiny pair of speakers. You just have to insert it in your ears and you're all ready to enjoy listening your favorite songs in the most comfortable manner. If you want to know in detail about the various kinds of latest Earbuds, keep on reading the article. It will guide you all about the best TWS Earbuds 2021.
What does this TWS technology mean?
TWS or True Wireless Stereo is the latest and extremely popular technology in the field of music and listening. As the name itself suggests, this technology enables the devices to work in a completely wireless manner (no more stressing about your earphones always being tangled!) and thus are super comfortable.
These devices (the two Earbuds) are not attached to even each other by the means of any wire. You can even share one of the Earbuds with your friend or partner, whether you are walking in a park or just spending some quality time together.
The Earbuds use the application of Bluetooth to operate. And importantly, these kinds of Earbuds look much more stylish than the other ones.
What are some of the best TWS Earbuds 2021?
The audio market has plenty of TWS Earbuds available for the music lovers. Here is a compilation of some of the best TWS Earbuds 2021:
1. Samsung Galaxy Buds Pro                            
This is arguably the best tws Earbuds for those who love to own Samsung products. These Earbuds come with a variety of features, giving a tough competition to other companies.
Price in India – Rs. 15,990
Comes with the feature of active noise cancellation.
These are designed in a way as to remain unaffected by water exposure; the water resistance (of the Earbuds) is IPX7.
The charging also takes place in the wireless mode.
Comes in stylish colors, along with glossy finishing
This set of Earbuds requires the Galaxy Wearable app to work on Android.
2. Sennheiser CX 400BT True Wireless Earbuds
Sennheiser is one of the dominating companies in terms of the production of best – quality headsets, microphones, earphones and best tws Earbuds. It is a German privately held audio company.
These Earbuds are currently available on amazon for ₹ 12,775 only.
These come with salient features like Android Phone Control and IOS Phone Control
It has fully adaptable controls for music, calls and voice assistant
It delivers high quality sound on both iOS and Android.
Voice assistants like Siri and Google Assistant can also be accessed using this
These are available in black and white colour, and with a classy design.
3. Apple AirPods Pro
There is nothing more perfect than these best tws Earbuds for the ultimate Apple products' lovers.
It is designed with the feature of active noise cancellation
It is water as well as sweat resistant
It is available along with three sizes of silicone ear tips, making it convenient for all
Available in the classic white colour
The price tag is $249 (about ₹ 18,145)
It also supports the voice assistant Siri
The unique feature of "Transparency mode" allows the users to distinguish and listen to the important sounds in their vicinity simultaneously
4. Bose QuietComfort Earbuds
These best tws Earbuds are yet another fabulous option for all the audiophiles out there. These are a good alternative of the above listed Earbuds.
These are available on amazon at the price ₹ 26,900
It is equipped with 11 levels of noise cancelling technique
It also has the "transparency mode"
Designed with the ability to resist sweat and water; at the rate of IPX4
The Earbuds come with "simple touch controls" in the place of buttons
Made up of soft silicone, to provide comfort to the users
5. Sony WF-1000XM3 True Wireless Earbuds
These are another important entity in Best TWS Earbuds 2021. Produced by the prestigious company Sony, these Earbuds a great option for music lovers.
These are available at the price of ₹ 19,990
These are available in attractive and classy design
Designed with highly advanced noise cancellation technology, using the processor QN1e
It consists of dual microphones for better effect
It has high-friction rubber surface
Supports voice assistants like Amazon Alexa, Siri, and Google Assistant
6. Grado GT220
These are another noteworthy Earbuds of 2021.
These are available at the price ₹ 24,404.
These Earbuds are extremely light-weighted, so as not to burden the ears while wearing
It doesn't have the feature of active noise cancellation like the other Earbuds
The material used here is polycarbonate
In these Earbuds, only one mic is there in each piece respectively
These are congenial with both Siri and Google Assistant
7. Cambridge Audio Melomania 1
Cambridge Audio Melomania 1 is another amazing option for those who are looking for absolutely wireless Earbuds.
It costs around ₹ 9,466.70, quite cheaper than other Earbuds
High quality audio
It does not come with the feature of noise cancellation
The design is sleek, but the Earbuds are longer than the above discussed models
These are water resistant; they come with a rating of IPX5
The battery life is great
These were the best TWS Earbuds 2021. Now that you know all the necessary information about the various Earbuds, you can easily decide which one is the most suitable for you.
Get your favourite pair of Earbuds and delve into the fantastic world of music. Let us know in the comments section below how this article was helpful for you. Also share your experiences about your favorite Earbuds.