Here we handpicked 10 must read books of all time that will live in your head for lifetime. You may have read millions of novels, books, plays, dramas but few books just hit different.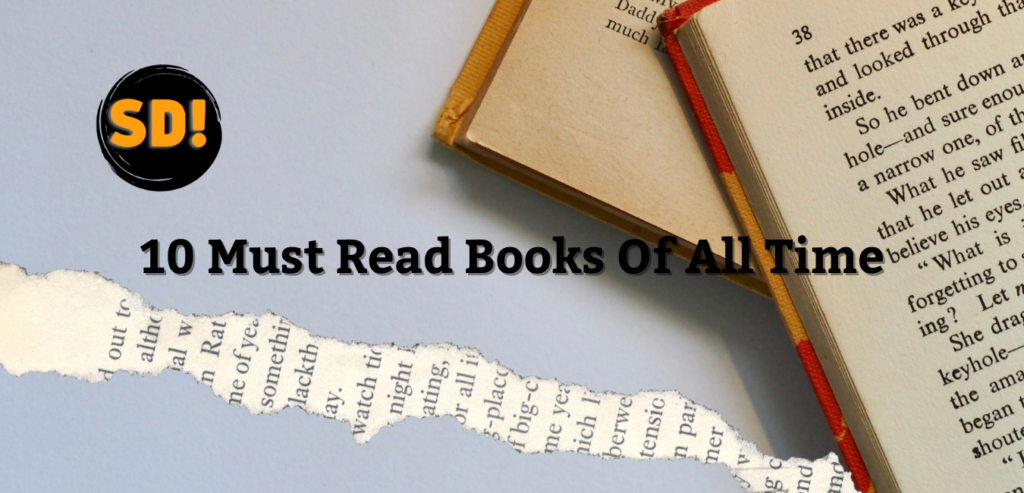 They compel you to remember the plot, characters, locations, setting or anything which you liked the most. Even it can be a single line or a simple dialogue or a non-verbal communication between two characters. This happens to the most of us readers and that just because those simple dialogue or lines or characters have the vigor to affect us in a way or other through the plot, story or anything. They create such an impression that we recommend them as a must read to everyone.
10 Must Read Books of all time
Let's start with this Shrimad Bhagwat Gita book. It's one of the 10 Must Read Books Of All Time. It is a non-fiction and authorship attributed to Ved Vyasa. Its publication is somewhat vague and varies considerably. It is the part containing 700 verses of the epic Mahabharata. It teaches us most important life lessons on religion, work, renunciation, life, enemy, friends, affection, spirituality and much more. All these doctrines are quoted to Arjuna by his charioteer Shri Krishna when he loses his tenacity to take part in war.
The Last Girl: My Story of Captivity and My Fight Against the Islamic State is an autobiography of Nadia Murad, an Iraqi Human Rights Activist. It's second of the 10 Must Read Books Of All Time. It was published in 2017. This book is fractionated in three parts in which Nadia systematically tells about her captivity, rape and escape that are really worth reading about. This book will give you more reasons to ponder over the refugees' life and the pathetic condition they survive. This autobiography is personally recommended in this list of 10 must read books of all time.

The Kite Runner is a historic fiction, covers drama and coming of age genre. It's third of the 10 Must Read Books Of All Time. It is authored by Afghan- American Khalid Hosseini and published in 2003. This fiction is about a Sunni Muslim Amir residing in Afghanistan among the elite class. His relationships, decisions of a particular time in childhood seems to affect another time in his youth while residing in the USA. Determined to make amendments in the relations with his father Baba, Amir goes back to Afghanistan to better the things.

12 Rules for Life: An Antidote to Chaos is a non-fiction and more of a self-help book. It is written by Canadian psychologist Jordan Peterson, published in 2018. In this self-help, author quotes 12 such rules that can "get your life together" and lead in peaceful way of living. Life can't be perfect; situations and circumstances shape one's life but the author has elaborated the ways in which
you can overcome big difficulties with his real life instances. It's fourth of the 10 Must Read Books Of All Time.

The Subtle Art of Not Giving a Fuck
The Subtle Art of Not Giving a Fuck: A Counterintuitive Approach to Living a Good Life is a non-fiction book written by Mark Manson, published in 2016. It's one of the 10 Must Read Books Of All Time. This book tells about the ways to lead a peaceful life by not giving attention to unnecessary things in your life. There are unlimited resources in the world, you can't focus on so many things at one time. The author emphasises on giving attention and full focus on only those things which align with your personal benefit.

Tuesdays with Morrie is an autobiography of Mitch Albom published in 1997. This autobiography is about Mitch who reunites with his professor and this reunion proved as fruitful for his life. Imagine you meet an older person and that old person guides you through the way of life warning and alerting you about the bumpy road ahead, so that you would not make the same mistakes which other people fall prey. Along with Mitch, we also get to learn a lot more things by the old person though his experiences.

Oldman and the Sea is literary fiction authored by Ernest Hemingway published in 1952. This story is about the struggle between the old man and the sea in his way to catch Marlin, a fish. Old man after his unproductive streak encounters four or five days struggling to catch marlin safely from the shiver of sharks. Despite his bad luck, he proves to people that this bad luck doesn't come in his way of will and determination.

Argumentative Indian is a non-fiction authored by Nobel Laureate Amartya Sen and published in 2005. It is chiefly a collection of essays that reflects light on India's history through a series of debates, argument and counter argument. Apart from the rich arguments, the comparison between various cultures, pluralism is also demonstrated in this book.

To Kill a Mockingbird is partially based on true story. It is authored by Harper Lee and was published in 1960. This novel possesses the story of three kids, a lawyer and a black man. The black man is accused of raping a white woman in the locality and the lawyer is asked to defend that accused. This whole story is narrated by a six year old boy Finch, which turns this story somewhat of dark humour.
Godaan is a historic fictional book written by the most prominent and Indian author Munshi Premchand. It was published in 1936 and considered as the greatest novel of all the time. This novel is set in the colonial period of India seen through the perspective of a poor yet dignified Indian family for whom keeping a cow is of utmost importance. Purchasing a cow sets a chain of events for the family which shifts the course of their life. Every book, novel, autobiography or memoir confer something crucial that we just can't forget.
Reading is somewhat that will always confer. These 10 must read books of all time are a mix of fiction and non-fiction that will help you in a way or other in your life for sure.
Also Read: